Free Spam Filters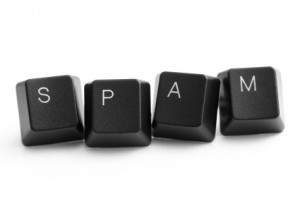 These days spam has become something common and frequent. Every day we open our email-boxes and eliminate unbidden messages losing our precious time. Spam filter can relieve you from this bore. Junk mail is easily recognized and its amount can be reduced by spam filter software.
Being dangerous to both, the user and computer, spam can contain phishing attacks, keyloggers and viruses. This malware can steal user's private data, including usernames, passwords and bank account information. If you want to avoid such PC contaminations, spam filter software can is your way out.
Spam filter is your assistant in achieving several aims. Firstly, you can keep your inbox clean, reducing the penetration of trash, spam or undesirable emails. Parents, for example, can block questionable email that can contain pornography.
What spam filter software should be like in order to be the best? Let's check out!
The most valuable is the feature of blocking and filtering spam. Multiple capabilities should be included in software to prevent junk mail. It's great when software includes both white and black lists, community-based filtering, quarantine settings, sensitivity settings and challenge and response techniques. Containing features like blocking by server, country code and IP and email address the software is of great value.
The capability of protecting multiple user accounts with a single installation is not less important. The user should also be protected from emails containing Trojans, viruses, worms and other malware. Moreover, powerful spam filter software is able to define HTML email that includes phishing attacks. These in their turn are created to obtain your sensitive personal information.
The solid spam filter software should empower the user to create new and edit predefined rule settings.
The best spam filter software should be compatible with users' current webmail service provider like Hotmail, Gmail and Yahoo. It also should be compatible with email clients. More common of them Outlook Express, Thunderbird, Outlook.
Spam filter software is like a solid wall of defense so that only wanted emails have access to your inbox. Moreover, the time savings productivity added with spam filters is highly significant.
eXpurgate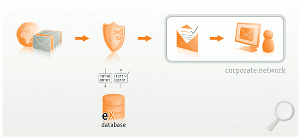 eXpurgate is a spam filter for everybody. It is an effective virus and spam filtering service. A weak point of this spam filter software is that it requests two absolutely different email accounts.
– You customize your email account to forward to this spam filtering service. There the messages are filtered.
– Then eXpurgate forwards filtered mail to another email account. There you can download it.
– Mails are classified by eXpurgate into dangerous, spam, bulk or clean. Mails from each of four categories can be forwarded to separate addresses that can be designed.
– Headers can be added and subjects for filtering can be modified in your email program.
– Additionally, dams outbreaks and patterns of viral spread are recognized by eXpurgate.
– eXpurgate provides you with the graphs and statistics about the volume and number of each mail type.
Simple but highly effective working manner of eXpurgate makes a conspicuous figure. eXpurgate precisely spots spam using both source, message and header analysis and self-learning algorithms. This spam filter software differentiates between good mail and true spam with success. It also sorts bulk email as newsletters from delicate content. Moreover, viruses and potentially dangerous HTML messages are filtered out by eXpurgate.
Spamihilator

Spamihilator  is easy-to-use tool. Having a good detection rate, this anti-spam program works with any email client. Remote administration of Spamihilator cannot be performed.
– Being an anti-spam tool for IMAP and POP accounts, Spamihilator supports secure SSL/TLS connections.
– It is a sort of proxy between email server and your email client.
– Spam is filtered before entering the inbox. This anti-spam tool deletes bad mails without downloading them.
– With Spamihilator deleted spam can be browsed and read inside the program. Recovering of good files is also possible.
– Distributed registry of specified spam, white and black lists and scoring filters are in Spamihilator's disposal.
– A higher detection rate is obtained with the use of a link filter and Bayesian statistics.
– All recent mail is kept by Spamihilator for easy training of the adaptive filters.
– Daily statistics of detected spam is collected and can be displayed by Spamihilator.
– Spamihilator can be expanded with plug-ins.
– Windows 9 x/ME/NT/2000/3/XP/Vista/7 are supported by the program.
With Spamihilator spam is filtered before reaching the email box. Working as IMAP and POP proxy, the program has neat interface and is flexible and not overcrowded with settings and features. Deleted messages can be easily browsed and recovered from "Recycle bin" of Spamihilator. Using the Distributed Checksum Clearinghouse (DCC) and Bayesian filter, Spamihilator automatically detects most spam. Good mail stands secure.
Unfortunately, there are only two categories of mail for automatic classification. Moreover, detected spam cannot be marked for further filtering in the email client.
SpamExperts Desktop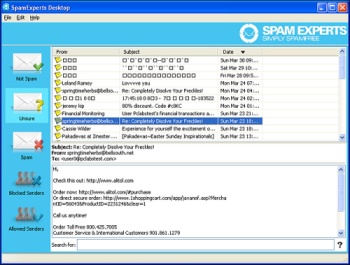 With SpamExperts Desktop spam is precisely identified and eliminated. The program doesn't require any configuration to work with any email program and any email account. The filter's errors can be corrected easier.
– The program filters spam in IMAP and POP accounts.
– SpamExperts Desktop's plugging into the email transport makes it work with any email program.
– Central database of the identified spam and Bayesian statistics are combined in SpamExperts Desktop.
– There are supplementary local white and black lists of senders.
– Detected spam can be marked for filtering in the email program or quarantined.
– Context and drag-and-drop menus can help to correct misclassifications in SpamExperts Desktop.
– Mail can be periodically filtered and retrieved by SpamExperts Desktop.
– The program supports Windows XP/2000/3/Vista.
Working right out of the box, SpamExperts Desktop has not much to configure. Once SpamExperts Desktop is installed, it filters all incoming messages. Your email program can be of any type, and no additional action is required. SpamExperts Desktop relies on both a local Bayesian filtering and a system of fingerprints and identifies spam precisely.
You can set SpamExperts Desktop to automatically retrieve new mail. The process will be done in the background. Email program can be also checked on a schedule. Mail recognized as spam is quarantined. It also can be categorized manually.
Cactus Spam Filter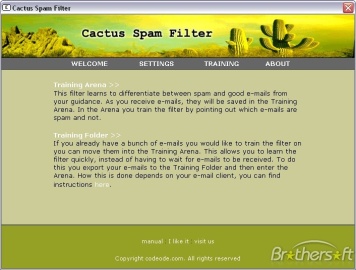 Being very easy to use, Cactus Spam Filter is a well precise spam filter, but works with POP accounts only.
– POP email accounts can be filtered by Cactus Spam Filter for spam.
– Junk mail is precisely marked with the use of Bayesian statistics.
– Detected spam is labeled in the Subject for a subsequent filtering.
– The program automatically intercepts email traffic and work with any email client.
– All email is displayed in the training area that allows you to mark as good mail or spam.
– The program supports Windows 98/XP/ ME/NT/2000/3.
Cactus Spam Filter 2.13 precisely identifies spam requiring no configurations. Spam is marked in the message Subject. The program automatically filter all mail downloaded. The full list of filtered messages is always displayed by the program, so that you have not to search it.
SpamRIP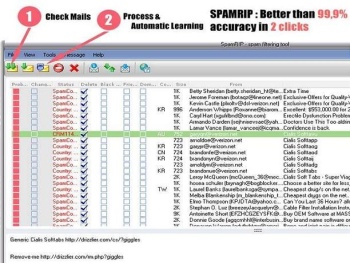 SpamRIP is a spam filter. It is an ideal solution for any POP email account. The program allows you to preview and delete junk mail before it accesses the inbox. Being not so flexible, the program doesn't work with IMAP accounts.
– Mail in multiple POP email accounts is filtered by SpamRIP for spam.
– Junk mail is precisely identified with the help of CRM114 filtering used by the SpamRIP.
– DNS blacklists can be queried by the program. Moreover, SpamRIP can use local white and black lists.
– Basing on the origin of the mail you can mark it as spam due to a country filter.
– Messages can be previewed and corrected.
– The spam filter supports Windows Vista/XP/2000.
All emails are made of phrases. SpamRIP includes the CRM114 filter. This, in its turn, finds phrases in emails. They are analyzed for their probabilities in unwanted and wanted emails.
Identified spam is marked for deletion from the server before it gets to your email program. So you should check email twice. To filter any number of POP accounts is also possible. SpamRIP training, especially that of SpamRIP's CRM114 filter could appear slightly difficult.
Mail cannot be sorted by spam score in SpamRIP. Along with probabilistic filtering, DNS blacklists can be used. SpamRIP uses also white and black lists. Spam mail from the certain country can be permanently blocked due to country filtering.
BullGuard Spamfilter 8.0
This spam filter program plugs into Outlook Express, Outlook and Mozilla Thunderbird to effectively filter spam without much effort.
– Junk mail is filtered in Outlook Express, Outlook, Mozilla Thunderbird and Windows Mail.
– The program automatically places all incoming spam from POP accounts into a junk mail folder.
– BullGuard Spamfilter's rules-based filtering and user community are used to detect spam.
– You can report junk and correct errors. Such buttons as "This is/ is not spam" will be very useful.
– Black and white lists will help you to disallow or allow certain senders.
– You can easily fill the white list with addresses from sent mail and address book contacts.
– The programsupports Windows Me/98/XP/2000/Vista
BullGuard Spamfilter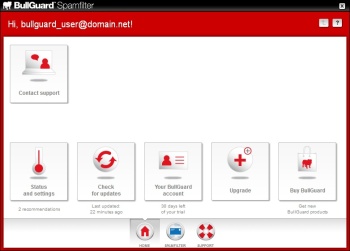 Working with such email programs as Mozilla Thunderbird, outlook Express, Windows Mail and Outlook, BullGuard Spamfilter filters POP accounts only. Including a junk mail filter, the program comes with few prescription and description.
Once you chose email program, junk mail would be moved out of your way. BullGuard Spamfilter's errors can be easily corrected using "This is spam" and "This is not spam" buttons. Both a heuristic method and a community filter are used to determine what spam might remain. The number of false positives is minimal.
BullGuard Spamfilter tries to keep a white list up-to-date and can automatically enter everybody you mail in the white list. You also can import addresses from previously sent mail and your email program's address book.
Generally speaking, BullGuard Spamfilter is a quite effective and uncomplicated spam filter program.
G-Lock SpamCombat 2.50
This program works with POP accounts. Being a competent and comprehensive Bayesian spam filter, G-Lock SpamCombat can also use DNS blacklists.
– With G-Lock SpamCombat you can filter multiple POP accounts for spam.
– G-Lock SpamCombat identifies almost every kind of spam due to DNS blacklists, HTML analysis and Bayesian filtering.
– With G-Lock SpamCombat regular expression filters can be set up to be highly flexible.
– G-Lock SpamCombat let you preview messages in easy and secure way. You can also re-classify them seamlessly.
– Your accounts can be checked periodically. Mail that is surely considered as spam is optionally deleted.
– The program works with such email clients as Outlook and Outlook Express, etc.
– G-Lock SpamCombat supports Windows 98/ NT / ME / XP /2000/3.
Being a sophisticated anti-spam tool, it combines the DNS blacklists and Bayesian filtering. Smart HTML content analysis is also used. The program allows you to delete a great many spam at the server without downloading it into your email client.
Unfortunately, you will have to check your mail twice. White and black lists can be set up in G-Lock SpamCombat. Once the Bayesian engine is trained, all spam will be reliably detected. Overloaded interface can make training process not so easy.
SpamWeasel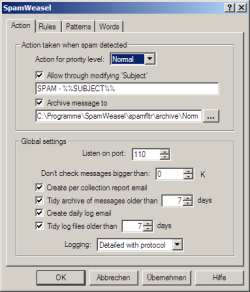 If you are looking for the one of the most powerful anti-spam tools, SpamWeasel will be a great choice for you.
– The program works as proxy server between POP mail server and email client.
– Filters used in detecting spam are written in a scripting language that is very powerful.
– A great number of predefined filters are included in SpamWeasel.
– Powerful logging is supported by SpamWeasel. Reports via email are supported as well.
– An archive viewer is included.
– The program supports Windows XP/9x/NT/ME/2000.
Using powerful and interesting concept, SpamWeasel acts as a proxy server between POP server and email program. It can delete spam as well as to detect it. All suspected spam can be collected in one folder.
SpamWeasel is restricted to POP accounts and includes large number of smart filters, but does not use any statistical analysis or scoring filters to detect spam.
K9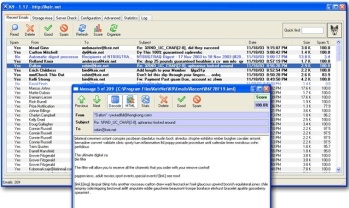 If you are looking for easy-to-use and precise Bayesian spam filtering tool, K9 is exactly what you need. It works with POP accounts. Unfortunately, remote administration is lacking.
– This spam filter program checks POP accounts as a POP proxy.
– Advanced Bayesian statistical analysis helps K9 to detect spam.
– Any errors of K9 can be easily corrected. Moreover, it learns with each correction.
– You also can seamlessly get through false classifications, the detailed statistics of which are kept in K9.
– Identified spam can be labeled in the subject.
– A custom X-header can be added for further filtering.
– Flexible custom-built keyword filters are perfectly combined with the statistical filtering.
– K9 detects junk and anti-junk words hidden in HTML that is a good protection against spammers.
– It is also possible to query one DNS blackhole list and additionally check spam.
– The program supports Windows XP/ME/2000/3/NT/9x.
Using Bayesian statistics, K9 flawlessly detects spam that can be automatically filtered to a special folder. You can use K9 with any email client but with POP accounts only.
» The best Firefox add-ons for Gmail
« Email Etiquette. Why do you need it?
Leave a Reply
You must be logged in to post a comment.