Send Large Files by Email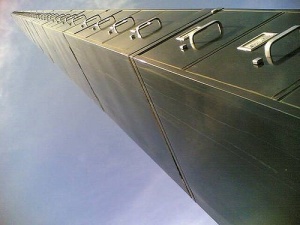 Here is the list of companies that provide online storage and file sharing.

DivShare – allows users to upload videos, photos and other files. You can embed your files anywhere, and co-brand your download pages.
DropSend helps you to send files up to 1 GB and to store your files online. It is fast, simple and secure to use. With DropSend you can even send important large files to clients. The company provides a desktop client for both Windows and Mac.
LeapFILE provides large file delivery, secure file portal. There's no email size limits, FTP obstacles, or overnight delivery fees. It allows to send and receive large files with ease and complete protection.

With MailBigFile you can send files up to 100MB without registration . All files are virus scanned.
You can use MegaUpload which allows to send files up to 500MB. It provides a wide range of uploading and downloading tools, and high-volume business accounts including pay-per-download.
MediaFire – free file hosting service for businesses, professionals, and individuals. You can upload an unlimited number of files to share with friends and family or storage. MediaFire allows to upload 100MB per file.
MediaMax gives you a private and secure place to upload, store, access, and share your personal videos, photos, movies, music, and files. The company provides 25 GB of free online storage. MediaMax backups your files and data safely and reliably.
MyOtherDrive a place where you can store online and share videos, music, photos – any file. MyOtherDrive provides 5GB of storage space. The uploaded files can be up to 2GB. The site allows users to create groups and share their folders selectively to these groups. You can even link back to your photos from auctions and blogs.
SendSpace If the file is too big for email attachments, one of the best ways to send it is with the help of SendSpace. It allows to send files up to 300MB.
YouSendIt the leader in digital content delivery, empowers people to send, receive and track digital files on-demand. YouSendIt provides a convenient email attachment solution, an easy-to-use FTP replacement. You can send files up to 100MB without creating an account.
zUpload offers a fast and simple way to share files. The files are hosted on powerful and stable Linux dedicated servers. zUpload.com provides unlimited bandwidth and disk space. The maximum size you can upload is 500 MB per file, as many files as you want.
» Choosing the Professional Email Address
4 Responses to "Send Large Files by Email"
Great help!

Nice list…. thanks

Webcargo is great too.

An option is File Apartment (http://www.fileapartment.com):

– Up to 1 GB
– Easy to use
– Free, Safe and secure
– No software to download or registration
Leave a Reply
You must be logged in to post a comment.